Information to share with students about the 11th Edition
TurboCoder is the must have ICD-10-AM/ACHI/ACS reference for standalone coding, or as your on-call companion when using active coding software and for students. TurboCoder is endorsed by HIMAA, TAFE, OTEN and major Universities as a powerful lower cost alternative to the books.

Please contact EIS or your educational institution for special student pricing..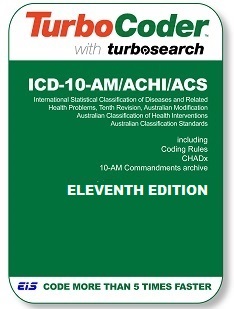 Latest Product Features
Spelling Help - Pre-emptive Search Spelling Help (PSSH) instantly checks spelling and suggests shortcuts to the codes.
Lead Term Search - go directly to the code you require with one-click in the Lead Terms in the Disease and Intervention Indexes.
Collaboration in context - share notes in context with your lecturer and other students.
Automatic updates - errata and upgrades free for first year.
Refined Coding Rules Indexing - Coding Rules are now enhanced with individual indexing to improve navigation, searching and browsing
See our key features for a comprehensive list of functions.
Helping clinical coders to code faster and more accurately...
TurboCoder uses the award winning eComPress® technology developed by Eurofield Information Solutions (EIS).
ICD-10-AM/ACHI/ACS and Medicare Benefits Schedule (MBS) TurboCoder content is licensed by the Australian Government.